3 MOUNTAIN PASSES WINE TASTING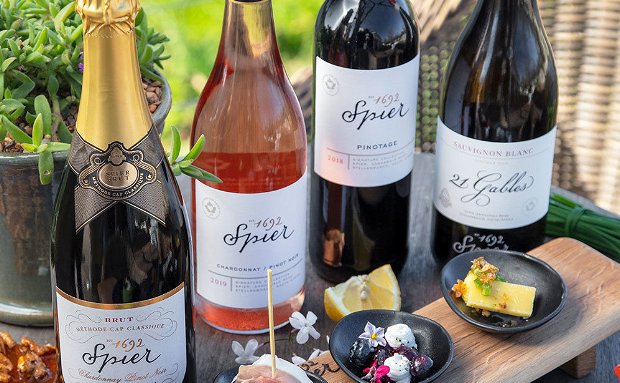 During this wine tasting tour we will drive over 3 iconic mountain passes, we will cross the most important water supplying dam of the Western Cape and we will enjoy 3 wine-tastings.
Tijdens deze wine tasting tour rijden we over 3 iconische bergpassen, passeren we belangrijkste drinkwater dam van de Westkaap en zullen we 3 verschillende wine-proeverijen doen.
EN: This tour will bring us over the Sir Lowry's Pass road to the Overberg where we will enjoy a delicious breakfast at the famous farmstall "Peregrine". After breakfast we will pass the Theewaterkloofdam to the famous Franschhoek Pass. After a short visit in Franschhoek were you can take a walk in the center, we will pass the Hugenot monument to our 1st wine tasting stop at Solms Delta Wine Estate. Here we will also take our lunch and we will enjoy a tractor tour through the vineyards.
After Solms Delta Wine Estate we continue to the Helshoogte Pass in Stellenbosch were we will enjoy our 2nd tasting at Zorgvliet Wine Estate. We will end our afternoon at Spier Wine Estate in Somerset West for our 3rd tasting. At about 17h15 we will be back at your accommodation.
NL: Deze toer brengt ons via Sir Lowry's Pass naar de Overberg waar we een heerlijk ontbijt zullen nuttigen bij Peregrine Farmstall. Na het ontbijt rijden we door richting de Theewaterkloofdam en zullen we via de Franschhoek Pass in Franschhoek aankomen. Hier kunt u een korte wandeling door het centrum maken alvorens we doorrijden naar Solms Delta Wine Estate. Hier zullen we ook onze lunch nemen een een tractor toer over het wijndomein.
Na Solms Delta vervolgen we onze weg via de Helshoogte Pass in Stellenbosch waar we onze 2e tasting zullen doen bij Zorgvliet Wine Estate. Onze toer eindigt bij Spier Wine Estate in Somerset West voor onze derde tasting. Rond kwart na 5 zetten wij u terug af bij uw accommodatie.
Gallery
Itinerary
Peregrine Farm Stall
Breakfast
Part of the journey since 1964
Established in the sixties, Peregrine has been serving generations of travellers seeking honest homemade fare and warm country hospitality. Situated in the beautiful and fertile Elgin Valley, Peregrine offers an abundance of locally sourced artisanal goods and wholesome, responsibly farmed, fresh produce.
Franschhoek and Hugenot Monument
Franschhoek (Dutch for: French corner) is one of the oldest villages in South Africa, established in 1688 by 176 French Huguenots families. Originally the place was called Olifantshoek (Dutch for: Elephants Corner) because of the numerous elephants living in the valley. 
The Huguenot Monument in Franschhoek, Western Cape, South Africa, is dedicated to the cultural influences that Huguenots have brought to the Cape Colony (and ultimately the whole of South Africa) after their immigration during the 17th and 18th centuries. The French and Belgian Protestants were fleeing religious persecution, especially in Catholic France.
Solms Delta Wine Estate - Franschhoek
Winetasting
"At Solms-Delta we celebrate what it means to be South African. The food, the people, the music and, of course, the wine, telling the stories of where we come from and sharing ownership and profits equally with our workers, we bring a sense of pride, belonging and ownership to those who have, for generations, called our historic farm home."
Zorgvliet Wine Estate - Stellenbosch
Winetasting
"At dusk the valley becomes tranquil and filled with magic, the mountains are painted in the colors of our rainbow nation as the last rays of sunshine greet the valley good night. Share our haven and you will never be the same again as you will become a beholder of the spirit of the Banghoek Valley."
Spier Wine Estate - Somerset West
Winetasting
Spier, near Stellenbosch, is one of South Africa's oldest wine farms with a recorded history dating back to 1692. While rooted in this heritage, they have got a vibrant and conscious energy, and are home to one of the largest collections of contemporary South African art.
Rates
From R 1 635.00 @ 4 participants
As this is a private tour the tour can be changed to your own wishes
Rate Includes:
Private drive in airconditioned car
Breakfast at Peregrine Farmstall including 1 coffee/tea and 1 fruit juice
Solms Delta Wine Estate safari wine tour (no animals)
Winetasting at Solms Delta Wine Estate
Winetasting at Zorgvliet Wine Estate
Winetasting at Spier Wine Estate
Rate excludes:
personal expenses, meals and drinks not mentioned above