CAPE TOWN City Walk + Winetasting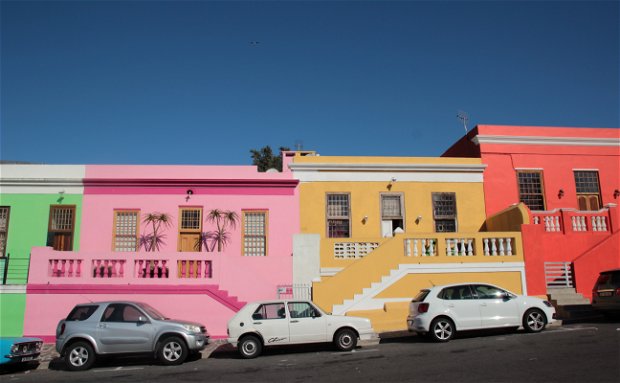 Please join us on this Cape Town City walk and visit some historic places. We will end the day with wine tasting at the cradle of the South African wine industry - Groot Constantia Wine Estate.
Ga met ons mee op deze stadswandeling door Kaapstad en bezoek enkele historische plaatsen. We sluiten de dag af met een wijnproeverij aan de wieg van de Zuid-Afrikaanse wijnindustrie - Groot Constantia Wine Estate.
EN: During our city walk we will get acquainted with some places of great historical significance that have shaped the history of Cape Town and consequently the entire Western Cape and South Africa.
We will see buildings built by both Dutch and English and we will get to know a piece of history related to slavery. We conclude with a wine tasting at the oldest winery in South Africa, founded in 1685 by the 1st VOC governor in the Western Cape - Simon van der Stel.
NL: Tijdens onze stadswandeling zullen we kennis maken met enkele plaatsen die historisch van grote betekenis waren en die bepalend zijn geweest voor de geschiedenis van Kaapstad en bijgevolg de hele Westkaap en Zuid-Afrika.
We zullen zowel door Nederlanders als door Engelsen gebouwde gebouwen zien en we zullen met een stukje geschiedenis m.b.t. de slavernij kennis maken. Afsluiten doen we met een wijnproeverij bij het oudste wijnhuis van Zuid-Afrika opgericht in 1685 door de 1e VOC gouverneur in de Westkaap - Simon van der Stel.
Itinerary
Castle of Good Hope
EN: The Castle was built by the Dutch East India Company between 1666 and 1679, the Castle is the oldest existing building in South Africa. It replaced an older fort called the Fort de Goede Hoop which was constructed from clay and timber and built by Jan van Riebeeck upon his arrival at the Cape of Good Hope in 1652.
NE: Het kasteel werd tussen 1666 en 1679 gebouwd door de Verenigde Oost-Indische Compagnie en is het oudste bestaande gebouw in Zuid-Afrika. Het verving een ouder fort genaamd Fort de Goede Hoop, dat was gebouwd van klei en hout en gebouwd door Jan van Riebeeck bij zijn aankomst op Kaap de Goede Hoop in 1652.
District Six Museum
EN: District Six became a symbol of apartheid oppression. The excellent and sobering District Six Museum provides context as well as rotating exhibits on the residents who were forcibly removed from their homes.
NE: District Six werd een symbool van apartheidsonderdrukking. Het uitstekende en ontnuchterende District Six Museum biedt zowel context als wisselende tentoonstellingen over de bewoners die met geweld uit hun huizen werden verwijderd.
St Mary's Cathedral
EN: The Cathedral Church of Our Lady of the Flight into Egypt in Cape Town is the seat of the Archbishop of Cape Town. Known affectionately by many as St Mary's Cathedral, it is the oldest Catholic cathedral in South Africa.
NE: De kathedraalkerk van Onze-Lieve-Vrouw van de Vlucht naar Egypte in Kaapstad is de zetel van de aartsbisschop van Kaapstad. Door velen liefkozend bekend als St Mary's Cathedral, is het de oudste katholieke kathedraal in Zuid-Afrika.
Companies Garden
EN: The Company's Garden was first built as a refreshment station for the trade route that rounded the tip of Africa between Europe and the east. Ships sent by the Dutch East India Company would stop by after months at sea and stock up on fresh produce grown in the garden—hence, "The Company's Garden".
NE: The Company's Garden werd oorspronkelijk gebouwd als een verversingsstation voor de handelsroute die de punt van Afrika tussen Europa en het oosten rondde. Schepen die door de Verenigde Oost-Indische Compagnie werden gestuurd, zouden na maanden op zee langskomen om verse producten in de tuin in te slaan - vandaar "The Company's Garden".
St. George's Cathedral
EN: Known as the "People's Cathedral" for its role in the resistance against apartheid, St. George's Cathedral is the oldest cathedral in Southern Africa and the mother church of the Anglican Diocese of Cape Town
NE: St. George's Cathedral, bekend als de "People's Cathedral" vanwege zijn rol in het verzet tegen de apartheid, is de oudste kathedraal in Zuid-Afrika en de moederkerk van het Anglicaanse bisdom Kaapstad
Iziko Slave Lodge
EN: The Slave Lodge is one of the oldest buildings in Cape Town. The building has answered to many names in the last three centuries, namely; Slave Lodge, Government Offices Building, Old Supreme Court, and SA Cultural History Museum. All these names reflect the long and rich history of the building.
NE: De Slave Lodge is een van de oudste gebouwen in Kaapstad. Het gebouw heeft in de afgelopen drie eeuwen aan vele namen beantwoord, namelijk; Slave Lodge, Government Offices Building, Old Supreme Court, en SA Cultural History Museum. Al deze namen weerspiegelen de lange en rijke geschiedenis van het gebouw.
Bo-Kaap
EN: The Bo-Kaap ("above the Cape" in Afrikaans) is an area of Cape Town, South Africa formerly known as the Malay Quarter. ... Bo-Kaap is known for its brightly coloured homes and cobble stoned streets.
NE: De Bo-Kaap ("boven de Kaap" in het Afrikaans) is een gebied van Kaapstad, Zuid-Afrika, voorheen bekend als de Maleisische wijk. ... Bo-Kaap staat bekend om zijn felgekleurde huizen en geplaveide straten.
Green Market
EN: Greenmarket Square is one of the liveliest hubs in Cape Town. It's the second oldest public space in Cape Town, after the Grand Parade. There are many things to do at Greenmarket Square, from exploring the market and grabbing a bite to eat, to exploring the art and discovering the story of the historic cobbled square.
NE: Greenmarket Square is een van de levendigste knooppunten in Kaapstad. Het is de op één na oudste openbare ruimte in Kaapstad, na de Grand Parade. Er zijn veel dingen te doen op Greenmarket Square, van het verkennen van de markt en een hapje eten, tot het verkennen van de kunst en het ontdekken van het verhaal van het historische geplaveide plein.
Groot Constantia Wine Estate
EN: History tells us that in 1679 Simon van der Stel was appointed by the Dutch East India Company to govern the Cape of Good Hope. After years of loyal service, he applied for land from the Company. In 1685 he fell in love with a piece of land and chose 891 morgen (about 763 hectares), located behind Table Mountain, because of its viticultural potential and beautiful landscape. Over the years, the wines produced on the estate have attracted the attention of influential people around the world - due to their impressive quality.
The rich history of Groot Constantia shows how one man's love for wine founded South Africa's first wine farm more than 330 years ago.
NE: De geschiedenis leert ons dat Simon van der Stel in 1679 door de Verenigde Oost-Indische Compagnie werd aangesteld om Kaap de Goede Hoop te besturen. Na jaren trouwe dienst vroeg hij land aan bij de Compagnie. In 1685 werd hij verliefd op een stuk land en koos 891 morgen (ongeveer 763 ha), gelegen achter de Tafelberg, vanwege zijn wijnbouwpotentieel en prachtig mooi landschap. Door de jaren heen trokken de wijnen die op het landgoed werden geproduceerd de aandacht van invloedrijke mensen over de hele wereld - vanwege de indrukwekkende kwaliteit.
De rijke geschiedenis van Groot Constantia laat zien hoe de liefde voor wijn van één man, meer dan 330 jaar geleden de eerste wijnboerderij van Zuid-Afrika oprichtte.
Rates
From R 1 325.00 per person (@ 4 participants)
Includes:
Private drive in airconditioned car
Entrance fee Castle of Good Hope
Entrance fee District Six Museum
Entrance fee Iziko Slave Lodge
Chocolate-wine pairing at Groot Constantia Wine Estate
Excluding:
Personal expenses
Drinks and meals
Audio tour equipment at Iziko slave lodge (optional)